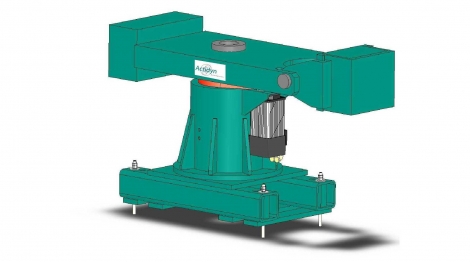 For all your geotechnical models below 0.30m in length, below 0.20m in width and below 0.25m in height, save preparation and machine setup time, minimize your energy consumption et and get your test results in a minimum amount of time with maximum efficiency.
The container basket can be removed from the centrifuge and carries up to 60Kg up to 80g. Electrical slip rings and an optical rotary joint ensure in-flight full control of your model. On top of these power slip rings and the fiber optic rotary joint (FORJ), your C60 by ACTIDYN is equipped with ACTIDYN's unique signature fluid rotary joints.
Your data acquisition system can be mounted on the machine and the controller gives you a precise readout of unbalance for maximum safety.
Your ACTIDYN C60 geotechnical centrifuge is the ideal modeling equipment for all your geotechnical modeling experiemnts on small-size models.
General Characteristics
| Series | C60 |
| --- | --- |
| Force (g x t) | 4.8 |
| Radius (m) | 1.0 |
| Basket Width (m) | 0.2 |
| Basket Length (m) | 0.3 |
| Basket Depth (m) | 0.25 |
| Maximum Acceleration (g) | 80 |
| Maximum Load Under Maximum Acceleration (kg) | 60 |
| Maximum Load (kg) | 60 |
| Maximum Acceleration Under Maximum Load (g) | 80 |
| Maximum Power Consumption under Maximum Acceleration (kW) | 6 |