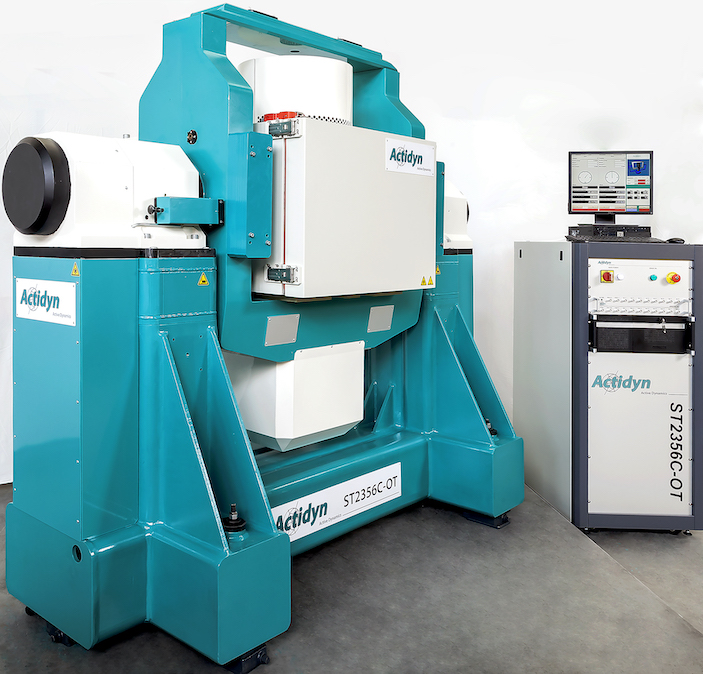 ACTIDYN's range of motion simulation products includes Rate Tables, Motion Simulators and Laboratory Centrifuges.

Very high precision or high dynamic response Motion Simulators are at the heart of the formation of our multidisciplinary team. Originally designed to test gyroscopes and mesaure their drift, through the years Motion Simulators have become more and more complex, accurate, larger, versatile and multi-purpose.

Their design and manufacturing require the most advanced technologies in numerous disciplines such as mechanics, hydraulics, electronics, drives, cybernetics and programming. The most advanced now feature accuracies flirting with fractions of an arc second, frequency responses greater than 100Hz, requiring to push the knowledge of physics to its finer retrenchments. Our Research and Development team, helped in its task with the most powerful CAD systems available, has mastered the art of Motion Simulator Design by simulating and predicting the performances of dynamic systems prior to their final assembly and testing.
The Motion Simulation product range offered by ACTIDYN, one of the widest in the marketplace, draws from three decades of experience of our team designing, manufacturing and maintaining electric and hydraulic Contraves-Goerz, Contraves USA, CARCO and ACUTRONIC motion simulators and allowing us to put at your service the best mechanical concepts for motion simulation allied with the latest developments in electronics. And so your AXIDYN ND controllers push the limits of Motion Simulation Control a step further and bring perfect coherence by remaining adaptable to all and any morion simulator brand.
With ACTIDYN, Motion Simulation gets better, faster, easier and more cost-effective every day
Brochure Download