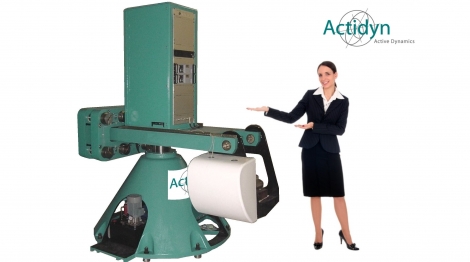 Your ACTIDYN C61 is another step in the direction of giant geotechnical modeling centrifuges while still leaving you with the benefits and versality of a simplified preparation and setup thanks to a machine the size of a human being, an ultra-fast start-up, and minimal consumption.
With its 2-meter radius and a platform of 0.5m in width and 0.7m in length, it can carry up to 500Kg at 100g, 130Kg à 130g or, as an option, event to 1000g.
This is the best of both worlds at the tip of your fingers: you have the unique possibility to carry your data acquisition system on a centrifuge that exhibits the versality of an ACTIDYN C60 series model.
General Characteristics
| Series | C61 |
| --- | --- |
| Force (g x t) | 50 |
| Radius (m) | 2.0 |
| Basket Width (m) | 0.6 |
| Basket Length (m) | 1.0 |
| Basket Depth (m) | 0.60 |
| Maximum Acceleration (g) | 130 |
| Maximum Load Under Maximum Acceleration (kg) | 230 |
| Maximum Load (kg) | 500 |
| Maximum Acceleration Under Maximum Load (g) | 100 |
| Maximum Power Consumption under Maximum Acceleration (kW) | 25 |