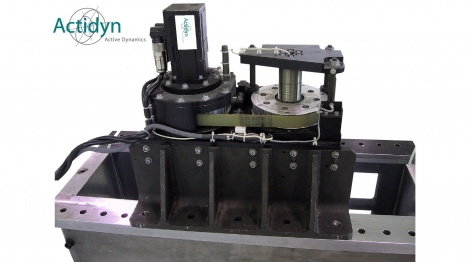 Your Actidyn In-Flight Loading System is suited for applications requiring variable static or dynamic constraints to be applied on soil foundation or structure models. It is particularly well suited for dynamic testing of foundations or piles under vertical loading.
It also allows you to generate loading-unloading constraints cycles. Loading can be continuous or applied in separate phases, even include multiple cycles. Forces are produced with a ball screw assembly driven by a belt and AC electric motor. Now your In-Flight Loading System can produce forces of up to 10kN under maximum acceleration of 100 g.
You Actidyn In-Flight Loading System is an entirely automatic system controlled remotely from the comforts and safety of your centrifuge control room on either a dedicated PC or through the User Interface of your Actidyn centrifuge control software. And with a communication line through optical fiber, ensuring maximum safety and reliability over any distance, it does not matter where or how far your control room is located.
Your Actidyn In-Flight Loading System can be used :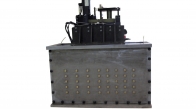 as a penetrometer,
for the loaing of foundation models,
as a scissometer.
It can also receive two aditional degrees of freedom :
rotation around the Z axis (perpendicular to the surface of the model),
translation along the length of the model,
hence confering the versality of a low-cost version of an Actidyn Controlled Tool System dedicated mostly to the loading of your models.