ACTIDYN's most recent creation, combining our vast expertise and our team's experience is the Vibrafuge, which incorporates the latest innovations in the field of centrifuge design and manufacturing and the latest developments lin the field of shakers.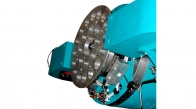 ACTIDYN's Vibrafuge V67 or V72 models, are specifically designed for laboratory applications requiring combined static and dynamic accelerations.
To achieve this, the vibrafuge includes the following essential items:
- on-arm shaker and arm servoed suspension;
- dynamic insulating suspension;
- rapidly adjustable counterweights;
- ultra-high accuracy imbalance detectors;
- heavy duty bearings system for continuous operation.
The Vibrafuge consists of a boom to which the swinging suspended shaker is attached at one end as well as a set of adjustable counterweights at the other end.
The boom rotates in a cylindrical enclosure made of concrete masonry which performs both safety and aerodynamic duties.
The electrical and the control system consists of an AC power amplifier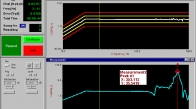 , a programmable controller and a PC.
The solid state switching AC amplifier controls the centrifuge boom rotating speed from a command signal generated by the centrifuge programmable controller.
The centrifuge programmable controller is in charge of all centrifuge and associated equipment control and safety functions; this controller :
- receives commands and settings from the operator PC, located in the control room;
- receives data from the centrifuge and associated equipment transducers;
- conditions and processes all collected data;
- sorts alarms per priority level;
- generates command signals for the various sub-systems;
- manages all systems data transmission;
- commands power relays, switches and alarms.
A stand alone personal computer, located in the control room, executes the man / machine interface and provides for a fully automated operation of the centrifuge and its companion accessories.
And so the Vibrafuge is a truly unique piece of technology, finely designed and crafted in our laboratory which finds many applications in the aerospace industry, particularly the launch of communications satellites and other uses where a combination of in-flight vibrations and accelerations/decelerations require the most accurate modeling and simulation on sensitive embarked equipment.